Not sure which shipping service to use? There are several factors to consider, depending on your business needs.
Let's start with cost since it's usually the reason we choose a shipping service.
Cost: Is UPS or USPS Cheaper?
USPS costs less than UPS for shipments up to 12 ounces (oz). But UPS competes with its Ground Saver option (UPS SurePost).
UPS Ground Saver vs USPS Ground Advantage (UPS SurePost) Speed and Cost
UPS Ground Saver Delivery Speed: 5-7 business days
USPS Ground Advantage Delivery Speed: 5 days
Here are some common rates as of September 2023 going from East Coast (17313) to West Coast (90210) using ShipStation (rates should be similar with other shipping software such as EasyShip or Pirate Ship):
| | | | |
| --- | --- | --- | --- |
| Dimensions | Weight | USPS Ground Advantage | UPS Ground Saver |
| 4x4x4″ | up to 4 oz | 4.13 | 6.35 |
| 4x4x4″ | 8 oz | 4.44 | 6.35 |
| 4x4x4″ | 12 oz | 5.33 | 6.35 |
| 4x4x4″ | 14 oz | 6.78 | 6.35 |
| 6x4x4″ | 1 lb | 8.03 | 6.35 |
| 8x8x8″ | 3 lb | 10.97 | 10.98 |
| 12x8x8″ | 7 lb | 13.15 | 13.14 |
| 16x12x12″ | 20 lb | 23.11 | 22.6 |
Prices in bold are cheaper. Rate differences are negligible for much over 1 lb.
Note for Shopify users: Basic plans do not receive as high of a shipping discount as higher plans (thanks Sea_Green3766)
Warning about UPS surcharges
The rates above may spike with UPS for various reasons. For example, UPS Ground Saver rates increase 3x to 5x if not within the contiguous United States.
There are also UPS Demand Surcharges during peak demand periods, such as the holidays. Rural or remote addresses may see additional surcharges.
Unlike UPS, USPS charges an equitable rate no matter how inaccessible the address.
Use USPS Ground Advantage for packages up to 12 oz and UPS Ground Saver for packages from 12 oz to 3 lbs if you're not concerned about UPS pickups, slower delivery speed, or surcharges. Price differences are negligible over 3 lbs (assuming there are no UPS surcharges).
If faster delivery speed is crucial, then stick with USPS Ground Advantage.
UPS Ground Saver (SurePost) uses USPS for final delivery, so there's little difference in reliability or quality of service.
This is from UPS's terms and conditions for the initial UPS Ground Saver pilot audience:
UPS Ground Saver service transports domestic packages primarily by ground transportation with final delivery to residential addresses by either the United States Postal Service® ("USPS®") or UPS.
Pickup Service
USPS provides free pickups, unlike UPS. Discounted UPS pickup rates are usually $12-$13 per pickup. If you're a small business with under 50 packages daily, it's more time and cost effective to use USPS.
You don't have to always schedule a pickup for USPS if it's only a few packages intermittently. But if you regularly ship orders via USPS, then it's nice to schedule pickups ahead of time (estimate the number of packages when scheduling ahead.) This way, your mail carrier receives credit for pickups. Otherwise, picked up packages do not count toward their route volume and negatively impact their metrics.
Caution: If you have multiple carriers picking up packages, separate USPS packages and use signage if necessary. USPS has an influx of new employees that may pick up the wrong packages. We've had this happen where a new USPS carrier picked up our just-delivered UPS shipments.
Customer Returns with USPS and UPS
If a customer changes their mind after shipment
USPS = Just RTS and in the Mailbox
Have the customer write 'RTS' on the package and leave it in their mailbox as long as the package is unopened. This return method is free but does not provide tracking. For tracked returns, or for opened packages, provide a new label for the customer.
The RTS method may not work after the first couple of days of delivery.
UPS = Buy another Label and More
You or the customer must purchase a return label and schedule a pickup unless the customer is willing to go to their local UPS location.
Returns for opened packages
Customers can place USPS returns in their mailbox for pickup or take them to the post office. But there's the extra step of creating and emailing a return label, unless your order platform does this for you.UPS offers a streamlined returns process that includes a pre-printed label with each shipment.
Reliability Comparison
Reliability is negligible between USPS and UPS Ground Saver (SurePost) as this UPS service uses USPS for last mile delivery. We'll cover the reliability of each carrier's overall shipping services.
UPS Reliability
UPS is known for its global logistics network, efficiency, tracking abilities, and on-time delivery rates. The company invests heavily in technology and infrastructure to optimize its operations. Customers, especially businesses, often choose UPS for its predictability. Its commitment to tracking accuracy is unmatched by USPS.
However, UPS is less reliable during severe weather and, although rare, labor strikes.
Is USPS Reliable
USPS Mail carriers may have difficulty delivering packages to unusual addresses like gated communities or new housing developments where the address information hasn't been updated in their system.
Also, during holidays, there can be substantial delays. Even during the normal season, staff shortages often arise that force carriers to cover additional routes, resulting in skipped deliveries. We experienced this for a few weeks last year when our carrier visited only 2-3 days per week.
USPS tracking information is sometimes inaccurate. For example, packages may show delivered when they aren't actually delivered until the following business day.
USPS delivers during severe weather, and USPS workers are legally prohibited from striking. A USPS strike occurred in 1970, but hasn't happened since.
USPS Stuck shipments
Some shipments become stuck in the USPS network. For example, this shipment has been stuck in 'Package Acceptance Pending' status for almost a month:
Dealing with stuck USPS shipments is the reason we created ShipAware. It alerts us when shipments are stuck so we can take action.
See below for more about late alerts and how to factor in USPS's lost shipment rate for your profit margins.
Reliability Conclusion
During severe weather or a pending carrier strike, USPS is the safer bet as they will deliver rain or shine. Otherwise, the difference is negligible or depends on the address.
Package Tracking Comparison UPS vs USPS
First-Party Tracking Details and Granularity
Let's compare tracking information provided on ups.com and usps.com.
Here are the tracking details of a UPS shipment when viewed on ups.com:
UPS public tracking info only shows the last few updates unless you sign up through UPS My Choice.
Here's the tracking info for a USPS shipment:
USPS wins hands down.
UPS decided to show less tracking information in 2021. People were unsure if it was a permanent change at first.
If you need full UPS tracking and aren't signed in, parcelsapp shows full tracking, but it's sometimes slow to load.
One downside of USPS worth mentioning is that their statuses can sometimes be cryptic. We compiled a list of (almost) all USPS statuses.
Tracking System Reliability
USPS can be slow to resolve its website issues. It's not uncommon for tracking and other services to be down for a few hours at a time.
Here's how the initial error looked:
Some time later…
"We actually planned for this, see?"
Fortunately, the tracking API has a more stable uptime (you can see its uptime history here). This means that shipping tools like ShipAware or your shipping software should still show accurate shipping statuses.
UPS service outages are much less frequent and seem to be the most resilient of the major US carriers. You can compare carrier downtimes here.
Customer Service for USPS and UPS
UPS Customer Service
UPS has several support options. Their phone support is usually the best bet. Despite what their support page says, try calling before 5pm ET on weekdays since their support agents seem less effective after this time. This could be due to a different work shift or different support center.
Despite having a phone support number, it's tough to speak to a human unless you trick the menu bot into forwarding you to an agent.
And when someone figures out how to efficiently navigate UPS phone menus and shares it, UPS eventually changes the menu system to stymie the flow of callers that reach support agents.
When emailing UPS, all of their support email addresses seem to be no-reply addresses (if you email one, you get a canned response that they aren't monitored).
Even UPS employees admit that, unless you're contacting the import/export/customs support line, you're rebuffed since it's not economically viable for UPS to dedicate labor to a small percentage of shipping issues.
If you have a domestic shipping issue, you're better off filing a claim than contacting support.
USPS Customer Service
Going to your local post office is best. Speaking to a live person using the public USPS support phone number is difficult or sometimes impossible.
Thankfully, there are self-service solutions for most issues: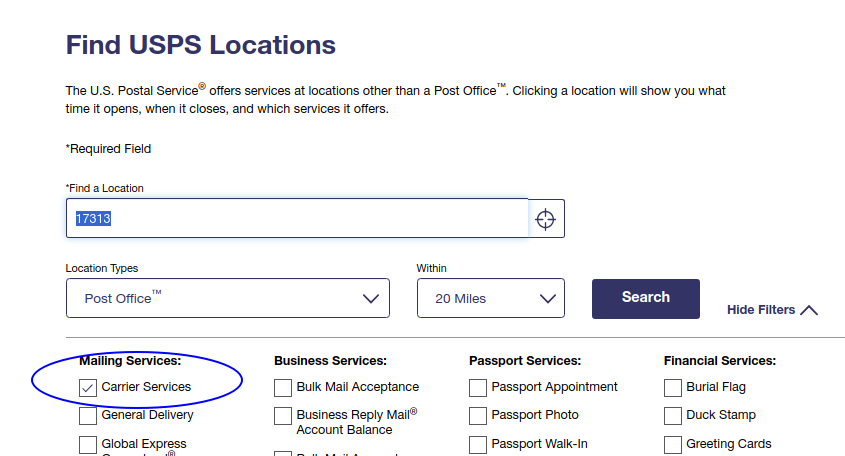 Which Should You Choose?
This depends on your margins and your risk tolerance for losing packages and having to reship. If most of your products are light and cost under $20 per unit to produce, then saving $1 to $2 per shipment is huge. In this case, go with USPS and bolster reliability with late shipment alerts from ShipAware.
Increase USPS Reliability and Keep the Lower Cost
You can have the best of both worlds for packages up to 12 oz. Increase reliability and keep the lower cost of USPS by using a shipping notification service like ShipAware to send alerts when shipments are running behind your promised delivery schedule.
Set up automatic customer email notifications with ShipAware for when USPS carriers have difficulty finding the customer's address or have other issues.
Factoring in the USPS lost shipment rate
USPS usually loses a fraction of a percentage of shipments. This can vary widely based on the management of your nearest USPS distribution center or post office. I haven't seen a lost package rate above 0.2% over the past decade.
You may see people claiming more, but this is rare, and it's likely they're experiencing a transient spike and haven't taken a true long-term average. Even a 0.2% loss rate is only a few pennies per order at a $20 average cost per order.
Reduce USPS Lost Shipments with Missing Mail Claims
Filing a USPS missing mail claim doesn't work 100% of the time. The chance of successfully "shaking loose a stuck shipment" increases the sooner you file the claim. If you wait too long, then mail seems to become lost permanently. Remember to create a USPS account so you can check your missing mail claim history.
ShipAware recommends when to make a missing mail claim based on shipping data:
USPS Shipping Services
USPS Ground Advantage
Most cost-effective option for packages under one pound.
Delivery within 2-5 business days
Includes tracking
First-Class Package Service
This was replaced by USPS Ground Advantage in 2023 for non-envelope packages.
Intended for envelopes (under 13 oz.)
Delivery times are usually between 1-5 business days.
USPS Parcel Select Ground
We've yet to see a reason to use this over USPS Ground Advantage. This service was supposedly replaced by USPS Ground Advantage, but is still available through some online purchasing options such as ShipStation.
Priority Mail
A faster service for domestic deliveries.
Delivery within 1-3 business days based on where the package starts and where it's being sent.
Includes USPS Tracking and up to $50 of insurance with most shipments.
Can be used for any mailable item, including letters and merchandise.
Flat rate options available.
Priority Mail Express
The fastest domestic service offered by USPS.
Offers overnight delivery to most U.S. locations.
Includes USPS Tracking and up to $100 of insurance with most shipments.
Provides guaranteed delivery 365 days a year, including weekends and holidays (with an added fee).
Suitable for documents and merchandise.
Flat rate options available.
Media Mail
A cost-effective service for shipping books, sound recordings, printed music, and recorded video tapes.
Typically slower than First-Class Mail or Priority Mail, with delivery in 2-8 business days.
Subject to certain restrictions regarding content; primarily intended for educational materials.
Price is based on the weight of the package.
UPS Shipping Services (Domestic)
UPS Ground Saver (SurePost): UPS's rebranded SurePost offering to compete with USPS Ground Advantage on price. 5 to 7 business days delivery speed. The reduced cost and shipping speed likely stems from using USPS for last mile delivery.
UPS Ground: Delivery in 2 to 5 business days. Unlike Ground Saver or SurePost UPS Ground packages are delivered only by UPS drivers.
UPS 3 Day Select: Guaranteed delivery within 3 business days by the end of the third day. An ideal choice over USPS Priority Mail if you need faster delivery at a slightly higher rate.
UPS 2nd Day Air: Guaranteed delivery within 2 business days by the end of the second day.
UPS Next Day Air: UPS's premium service that guarantees delivery by the next business day. Depending on the specific service chosen, packages can be delivered by early morning, mid-morning, or end of the day.
How to Further Reduce Shipping Costs
Poly Mailers or Recycled, Eco-Friendly Mailers
These take up less space and weigh less than boxes.
If your product requires a rigid enclosure to avoid damage, then consider making your product's packaging rigid. Ensure the packaging is just large enough for the product in order to reduce negative space. Then you can move to poly mailers without risking damage.
Reduce Product Packaging or Redesign for a smaller Footprint
Does your product need secondary packaging? Can you reduce the primary packaging? For example, supplement companies changed supplement powder packaging from hard plastic tubs to soft pouches. This reduced negative space and shipping weight.
Can you remove unnecessary parts of your product (or parts that may be unnecessary for your target customers)? Think of those stemless wine glasses on Amazon.
Amazon's Climate Pledge Friendly program has some good ideas on how to cut down on packaging and product size.
Discounted Shipping Rates with USPS and UPS
If you ship less than a few hundred packages per week, then you'll likely get better rates shipping to customers through platforms like ShipStation, Pirate Ship, or Easyship.
UPS provides negotiated rates once you hit a specific volume. You can get better rates almost immediately, even as a new business, if you provide your projected shipping volume. This way, you can get discounts on UPS pickups and shipping larger B2B packages. Smaller package rates are cheaper through shipping platforms at first. But it's always worth calling to get a discounted rate since any discount is better than nothing.
By negotiating rates with UPS and FedEx, this redditor gets 7lb 16x12x12″ coast to coast packages at a $15.73 and 12x8x8″ packages at $11.31, which is significantly cheaper than the already-discounted rates provided by shipping platforms.
USPS business discount rates are included with most shipping platforms. And USPS rarely provides discounts until you hit at least one million dollars in postage spend per year. Even then, the discounts are only for more expensive services like Priority Mail and Priority Express Mail.
Compare Rates on Multiple Shipping Platforms
My wife and I use both ShipStation and Pirate Ship for our retail business. Certain UPS international shipping options are cheaper on Pirate Ship.
But most of our shipping is through ShipStation because of their overall lower rates. As of September 2023, most domestic USPS and UPS shipping rates are cheaper on ShipStation.
Leverage USPS Priority Mail Cubic When it's Cheaper
USPS's Priority Mail Cubic can sometimes be cheaper than Priority Mail. Be sure to enter the box dimensions to get a cubic rate in your shipping software.
Some shipping platforms like ShipStation will automatically select the Priority Mail cubic rate if it's cheaper than the normal rate.
Ship from locations closest to the destination address
Amazon does this with multiple fulfillment centers in every state. But how can you do this as a small business?
Let's say you're on the East Coast. You can save on shipping by having your West Coast orders routed to a 3PL in Utah or a similarly located state.
If a 3PL is too expensive, then try finding a fellow seller with similar shipping volume on the West Coast who is interested in swapping fulfillment capacity. Send each other some inventory and configure your order routing.
Also agree on a rate of compensation when one of you fulfills more orders than the other.
Which is Best for International Shipping?
EPost Global is the cheapest for lighter packages in our experience.
However, if you have to choose between USPS and UPS for international shipping, then use UPS as it usually has a better speed to cost ratio. Remember to include an invoice that shows item prices, especially for UPS international shipments, or UPS may hold the package in customs.
Use USPS when you don't need the fastest option or when the retail value reaches the Tax De Minimis (minimum value at which the destination country charges import duties). Because once your order value is high enough to trigger import duties, you may have potential issues with UPS when they charge the buyer brokerage fees.
USPS shipments seem to pass through customs easier than UPS, especially when import duties or brokerage fees are due. Here's the Tax De Minimis per country.
What's the Difference Between UPS and USPS?
I'm putting this at the end since most of us already know the difference. But it can be confusing for people outside the US because of the similar organization names.
USPS (United States Postal Service):
Nature and Ownership: USPS is an independent establishment of the executive branch of the U.S. federal government. While it operates in a business-like manner, it's a public entity.
History: The roots of USPS date back to 1775 when Benjamin Franklin was appointed the first Postmaster General. The modern USPS, as we know it, was reorganized in 1971.
Mandate: USPS has a universal service obligation, which means it must provide mail services to all Americans, regardless of their location, at a standard price and quality. This includes delivering to remote and less accessible areas where it might not be profitable.
Services: While USPS offers package delivery, it's also the primary entity for regular mail delivery (letters, postcards, etc.) in the U.S.
Funding: USPS is self-funded, relying on the sale of postage and services to cover its operating expenses. It doesn't receive taxpayer money for its operations, despite this being a common misconception. USPS has some borrowing authority from the U.S. Treasury.
UPS (United Parcel Service):
Nature and Ownership: UPS is a private, for-profit corporation. It's one of the world's largest package delivery companies.
History: Founded in 1907 as a messenger company in Seattle, UPS has grown massively over the decades, expanding its services domestically and internationally.
Mandate: As a private company, UPS doesn't have the same universal service obligation as USPS. It operates based on profitability, which can influence where and how it provides services.
Services: UPS primarily focuses on package delivery and logistics services. While they deliver letters, their primary strength lies in package delivery, both domestically and internationally.
Funding: Being a private corporation, UPS operates to generate profits for its shareholders. It funds its operations through revenues generated from its services.