Deciding between FedEx and UPS for your shipping needs can be tricky. Both offer extensive domestic and international delivery networks and a wide range of services. However, there are some key differences that may make one carrier a better fit depending on your business's specific needs. This comprehensive guide examines the differences between FedEx and UPS across critical factors.
Cost: Is FedEx or UPS Cheaper?
FedEx requires an account to obtain negotiated rates. Without a discount, FedEx is much more expensive than the UPS prices you see on shipping platforms like ShipStation or Pirate Ship.
Unfortunately shipping platforms require you to connect your own FedEx account to ship FedEx packages.
Given this limitation, it's difficult to provide a straight comparison like we did in the UPS vs USPS post.
FedEx is usually cheaper for variable rates for small to medium shipments, assuming you have a decent shipping volume and have negotiated your FedEx discount accordingly.
As a small business with modest volume, you can usually get between a 30% to 40% discount with FedEx.
UPS is cheaper for larger, heavier shipments.
What's interesting is that FedEx used to be more expensive before the 2020-2021. But UPS seemed to increase prices substantially during the supply chain crunch.
UPS is still generally cheaper for international shipments.
Surcharges and Additional Fees
Fedex:
For contiguous US shipments additional fees for FedEx involve non-stackable packages, oversize packages, residential deliveries, along with a laundry list of other potential fees.
UPS:
Here's a table of UPS additional charges (source):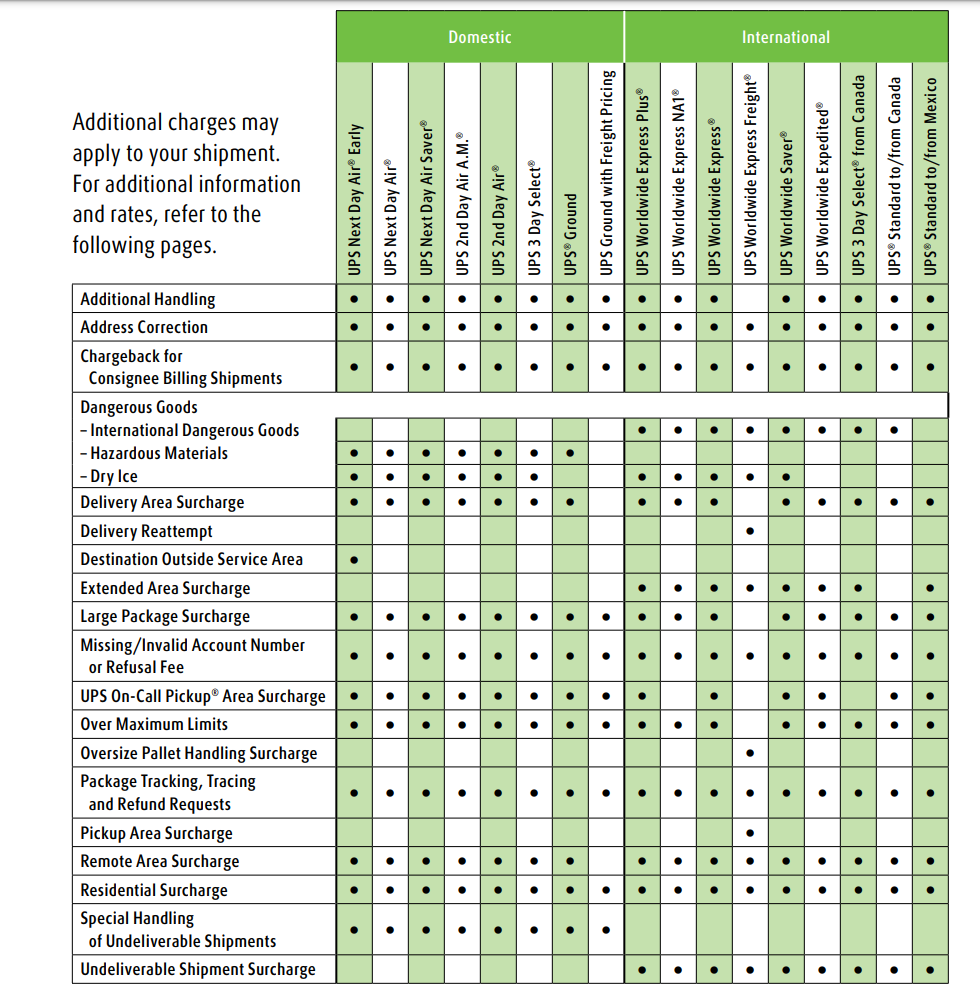 Cost Conclusion
Go with FedEx for smaller shipments if you have negotiated rates. Use UPS for heavier shipments.
Reliability
UPS tends to be more reliable with delivery times than FedEx. The least reliable FedEx services are FedEx Ground and FedEx Home Delivery.
FedEx's reliability seemed to decrease since 2020 according to experiences like this.
FedEx "Missed Deliveries"
Some customers suggest having the package held at a FedEx location since it's more reliable. Why? Because according to posts like this, FedEx frequently claims a 'missed delivery' when the recipient was available.
This may be due to UPS's larger fleet of drivers. FedEx relies on contract drivers, some of which aren't as experienced as employee drivers. In fact, FedEx is considering moving to all independent contractors for delivery.
Leaving FedEx Packages in Problematic Places
One positive is that FedEx takes photos for proof of delivery.
But they don't always leave packages in the best location.
Here's a wet treadmill and some stories about FedEx leaving packages at the end of the street or at the end of a long driveway.
UPS complaints are less frequent when scanning online forums.
Increase reliability with notifications and late alerts
Get notified when your shipments take longer than your promised delivery time. This way you can take action for problematic shipments before waiting for customer complaints.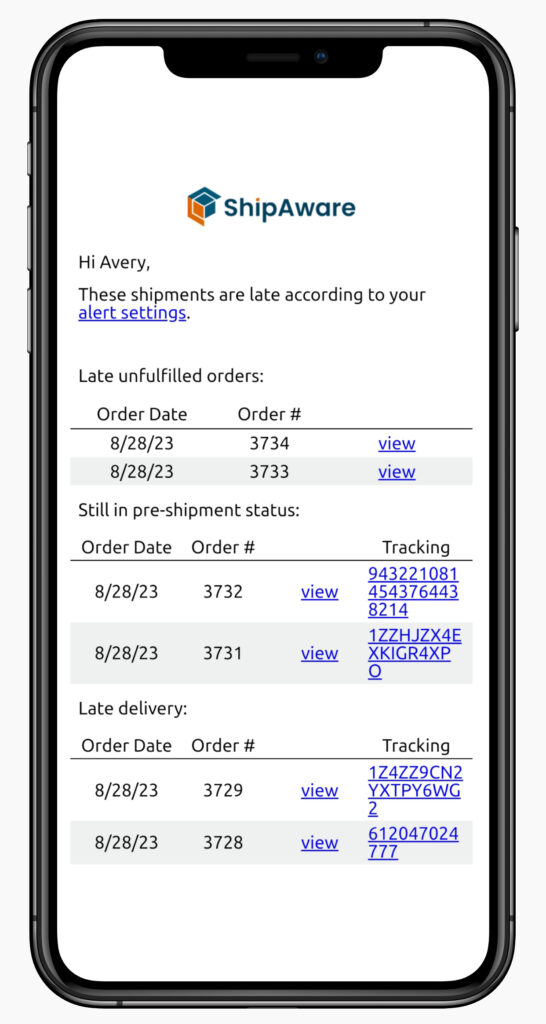 Also customize automatic notifications for shipping exceptions and other shipment statuses.
Speed
Slow (Ground)
FedEx Home Delivery: 1-5 days for the contiguous US, 3-7 days non-contiguous US (Alaska, Hawaii). Delivered every day, Monday through Sunday.
FedEx Ground: 1-5 business days for the contiguous US, 3-7 days AK and HI.
UPS Ground: 1-5 business days.
UPS Ground Saver: 5-7 business days. USPS performs final delivery instead of UPS for this service.
Fast
FedEx Express Saver: 2-4 business days.
FedEx 2Day: By the second business day
FedEx 2 Day: By the 2nd business day
UPS 2nd Day Air: By the 2nd business day
UPS 3 Day Select: By the 3rd day (not including AK and HI)
Fastest
FedEx Overnight (Standard): Delivery by 5 pm the next business day.
FedEx Priority Overnight delivers by 10:30 am the next business day.
FedEx First Overnight delivers by 9:30 am the next business day.
UPS Next Day Air (Standard): Delivery by the next day. Guaranteed delivery by end of day to all 50 states.
UPS Next Day Air Early delivers to the 48 contiguous states in the AM.
UPS Next Day Air Saver guarantees by 4:30 pm and only to the contiguous US.
Package Tracking Comparison
UPS obscures some tracking history unless you have an account. Here's what tracking looks without an account on ups.com (notice it only shows the latest three updates):
FedEx shows the full tracking history right on their website. And they provide a photo of the delivered package (which really cuts down on customers claiming non-delivered packages when tracking shows delivery):
Pickup and Drop-Off
UPS Pickup Service
UPS pickup service costs us about $12.50, but may be cheaper if you have better negotiated rates.
There doesn't seem to be a limit on the number of packages per pickup.
FedEx Pickup Service
FedEx pickups cost $3 per ground package and $4 per package for faster delivery services. Thankfully, they only charge $20 max per week.
Which pickup service is best?
If you have daily pickups, FedEx can be less expensive given it's $20 maximum pickup charge per week.
However, if you schedule infrequent pickups for more than 4 boxes, then UPS is the more cost-effective option.
Drop-off Locations Comparison
For pre-labeled packages
UPS Access Points are convenient for dropping off pre-labeled packaged. They provide UPS drop-off locations within many local stores.
We drop off our Amazon FBA boxes at the Advance Auto Parts UPS Access Point down the street to save on UPS pickup fees.
FedEx has a similar solution for dropping off pre-labeled packages called FedEx OnSite. It's available at stores such as Dollar General, Walgreens, OfficeMax, and Walmart.
But UPS seems to have more participating locations for its Access Points.
For unlabeled packages
For unlabeled packages, you can visit and postal/mailbox/business franchise such as Postal Connections for either UPS or FedEx.
UPS and FedEx also have dedicated stores: The UPS Store, FedEx Office Print & Ship Center, and FedEx Ship Center.
There seem to be more dedicated UPS stores than FedEx stores, especially in rural areas.
Drop-off conclusion
UPS has more convenient locations for shipping both labeled and unlabeled packages.
Customer Service Scorecard
Ability to speak with a human
FedEx: D
If you want to talk to a customer support rep at FedEx, it's very difficult, as the system seems designed to send you in circles. That is unless you know a workaround, which eventually stops working until someone finds a new workaround.
According this this redditor, FedEx phone support blocks your number if you exceed a threshold of calls or minutes.
UPS: C-
Similar to FedEx, it's difficult to speak to a human without tricking the menu bot into forwarding you to an agent.
But if you're calling about an import or export issue, you can get through to support. The domestic shipping support system is designed to weed out calls UPS deems unnecessary.
Hold time
FedEx: C
10-20 minute wait time.
UPS: D
20-30 minute wait time.
Support links
International Shipping
Comparisons use a 1 lb 8x8x8″ package.
Cost
UPS is much cheaper for international shipping unless you have an outstanding negotiated rates discount with FedEx.
UPS international rates on ShipStation were a fraction of the quoted prices through our FedEx account.
Speed
Alberta Canada from the US (PA)
UPS Standard: 5 business days
FedEx International Ground: 5 business days
Queensland Australia from the US (PA)
UPS Worldwide Expedited: 8 business days. Surprisingly, this was cheaper and faster than Worldwide Saver though ShipStation.
FedEx International Economy: 8 business days
Watch out for duties and brokerage fees
UPS and FedEx can charge duties and brokerage fees later, after you've paid for the base shipping cost.
Remember to include a packing slip/invoice that lists the item values to minimize delays.
If you're shipping over the minimum value when duties are assessed (tax de minimis), then consider USPS or GlobalPost, which uses the USPS network.
USPS shipments are more likely to pass through customs without being held for duties or other import issues.